TRANSFORMATION ARTS
KUNG FU
Sifu Daniel Carr
"Legends of Kung Fu" columnist Sifu Mark Cheng writes for Black Belt Magazine. This is what he has to say about Sifu Daniel Carr of Transformation Arts Kung Fu:
"Sifu Daniel Carr is one of the true modern scholars of comprehensive Martial Arts knowledge in America today. As a contributing editor to Black Belt Magazine, a Licensed Acupuncturist, and a Martial Arts Instructor myself, I can vouch for the depth of Sifu Carr's practical background and accomplishments in combative arts, healing practices, and applied movement sciences.
He has impressed me on multiple occasions not only with his tireless devotion to seeking out deeper truths in Chinese and Thai Martial Arts and healing arts, as well as traditional Indian Yogic practices, but also his genuine love of teaching and sharing such hard-earned knowledge. I highly and wholeheartedly endorse Sifu Carr as a modern expert in these ancient art forms."
A Note Of Introduction From
Daniel Carr: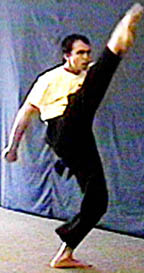 Rather than write about myself in 3rd person, I would like to offer the following as my credentials for teaching:
Approximately 14 years of study of with Sifu Jack Man Wong in Kung Fu, Tai Chi Ch'uan, and Hsing Yi Ch'uan hand forms and weapons.
Over 12 years of experience in Yoga, starting with instruction from Saraswati Devi in Berkeley and most recently studying in India through an outreach program at Banaras University with Yogesh Kumar Bhatt.
Over 10 years experience in Muay Thai, having trained in Thailand with top ranked pro Decha Petsin and in Hawaii with Kham Nakradam.
Intensive training with Floyd Winter, as assistant Olympic Wrestling Coach, in Greco-Roman Wrestling.
Real life experience fighting and winning of San Shou and Boxing tournaments.
Over 14 years of bodywork experience, starting with a massage certificate from San Francisco Acupuncture School in 1990 and most recently studying Thai Massage in Thailand at Wat Po, an internationally famous temple in Thailand and institution of Thai massage, and at the Pisit Academy, a leader of teaching Thai Massage to the blind in Bangkok.
Over 10 years of full time teaching experience, beginning at EBM Kung Fu in 1993.
Presented a Yoga and Meditation Seminar to UCLA physicians in 1998.
Designed a rehabilitative meditation program for the American Cancer Society for post-op cancer patients.